<![if !vml]>

<![endif]>
We are the distributor of the leading U. S. brand A. O. SMITH water heaters in the territories of Hong Kong and Macau.
A. O. SMITH is one of the biggest water heaters manufacturers in the United States. The applications of A.O. SMITH water heaters are extremely wide. We assure that it can meet the strict requirements for both residential and commercial use. 
Sustainability is one of the key words of our time and a central theme of this is the use of renewable energy. As a total supplier, A.O. Smith supplies all required components for every custom solution.
COMMERCIAL WATER HEATERS
<![if !vml]>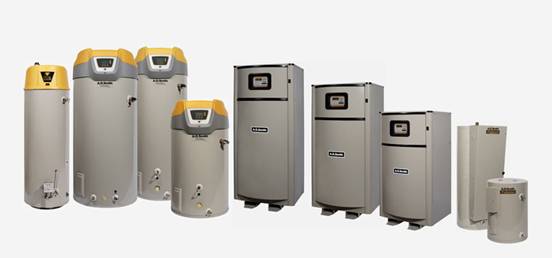 <![endif]>
GAS
A. O. Smith offers a large selection of gas water heater models from our innovative high efficiency designs to our standard energy-efficient units for both natural gas and propane applications.
OIL
A. O. Smith offers oil-fired models that are ideal for mid-sized commercial applications (up to 700,000 BTU/hr input). The larger models have an optional two-stage pump for use with below-grade oil storage tanks. And every model features two handhole cleanouts for easy servicing.
MULT-FUEL
A. O. Smith offers dual-fuel units (natural gas/oil or propane/oil) which are great for large commercial, industrial and institutional applications. They provide storage capacity up to 575 gallons and up to 2.5 million BTU/hr input. All models feature multiple anodic protection to guard against tank corrosion.
ELECTRIC
The innovative streak that runs through all A. O. Smith products is also proudly on display in our commercial electric line. With features such as the intelligent control system (DVE & DSE models) and the now standard 24k gold elements (optional on DSE models), our water heaters can sustain that performance even in the harshest water conditions.
SOLAR
Building on our strength as the industry leader in providing innovative and energy efficient water heating solutions, A. O. Smith is proud to offer a full line of Custom Commercial Solar Thermal Water Heating Systems.
AIR TO WATER HEAT PUMPS
In the quest for alternative energy sources and maximum efficiency, A.O. Smith has developed an air to water heat pump. This is a water heater which uses the residual heat present in the surrounding air to heat the water in the storage tank. This might be the residual heat inside the boiler room, or ventilation air drawn from outside a building.